Harmony Chain Initiative
is a special interfaith initiative of meditation and prayer for dialogue and peace from Mindanao to the world. It is a spiritual chain of peoples of different cultures and religions responding to God's dialogue with humanity to sustain our cry for peace. When the Philippine Government through then President Joseph Estrada declared "total war" in Mindanao in the year 2000 as a solution to the Moro problem, the Movement's quiet response was expressed in the slogan "Cry Peace with Your Life-in-Dialogue.The Harmony Prayer Initiative is: AN INTER-FAITH INITIATIVE OF MEDITATION AND PRAYER FOR DIALOGUE AND PEACE. A SPIRITUAL CHAIN OF PEOPLE OF DIFFERENT CULTURES AND RELIGIONS. A RESPONSE TO GOD'S DIALOGUE WITH HUMANITY TO SUSTAIN OUR CRY FOR PEACE.
Individuals, groups, and communities from different religions within and outside the country can become part of this "chain" by committing to specific time of the day to meditate or pray for peace. The goal is that every moment of the 24 hours of the day, some persons, groups or communities all over the world are united in prayer for peace. The much needed impetus came when a director and a coordinator volunteered to give full time on this activity. At present, the membership has grown from local to international level and regular communication and links are maintained through its monthly newsletter "IN-TOUCH" and " Legame di Pace" (in Italian).

The Silsilah Dialogue Movement promotes and pursues dialogue and it recognizes four pillars of dialogue: with God, with the self, with others and with creation. But what is dialogue with God but prayer?
The different religious traditions that we follow may have taught us different ways of praying. Nevertheless we all understand that prayer is our spoken or unspoken address to God, to praise Him, to give Him thanks and to petition Him for help in our need.
When we pray and when we know that others too are praying with us we are strengthened in our heart and soul. It is very heartwarming to know that someone who may be praying what I am praying but in another language, is addressing God as I am. I not only bond with God but also those who I know are praying the same prayer that I am praying. This is the rationale for the Harmony Chain Initiative.
---
Why Harmony Prayer for Peace?
We believe in peace through a spiritual approach. Peace starts from God because peace is a gift from God. The work for peace is a work entrusted by God to all humankind, whatever race, culture, religion, level of education. Solidarity and development are also essential to build peace. We want to start from the spiritual values of each people and religion for a more sustainable peace.
Where there is lack of faith in God, an absence of a spiritual dimension, there is also lack of comprehension and harmony. Tension, division, violence, conflict in the families, in the community, among friends, among societies and nations will surely follow.
Prayer for peace is good, but not enough! "The goal of peace on earth will come not without some personal pain. But the effort to make peace in our homes, in our personal relationships and at work, puts flesh and bones on prayers for peace".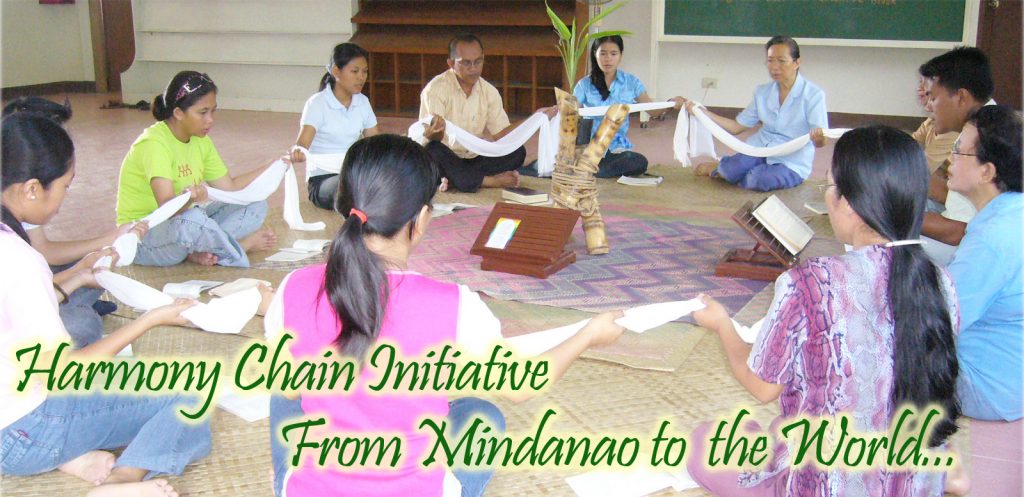 To pray for peace is demanding and at the same time transforming our lives. If we are unwilling to work to help peace break out in our homes and in our lives, then why should we surprised that our prayers for peace seem to go unheard by God?
The Harmony Prayer is an answer or a prevention to a conflict. Reconciliation is necessary after a conflict to build peace. To live in dialogue and harmony with God, self, the others and creation is the way to avoid conflicts! Therefore, let us not wait for war to think about peace! Accumulating offences, hurts, unforgiveness will only escalate conflicts and accompanying terrible damages. Accumulating seeds of understanding, patience, attention to the needs of the others, sharing, solidarity, etc…will preserve in families, working places and communities. Let us work for peace through dialogue if we don't want war!
HC is not only in the context of Christian-Muslim dialogue. HC is not only in the context of Christian-Muslim dialogue; it is also in the context of every intercultural and inter-religious dialogue. We need dialogue in the life of couples, among families, among communities (whether civil or religious), among groups and movements, in a pluralistic society with many nationalities living together in our global village.
Dialogue for better understanding is a present necessity of our world. Peace of heart above all, peace in the family to avoid conflicts.